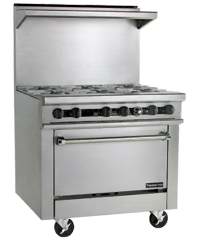 (casters optional )
Griddle/Oven 36" 2 Burner-24"
(Item #662-693)
This gas range sits on six inch adjustable legs. It runs on either propane or natural gas and features one oven, two open top burners, and a 24 inch griddle. This range comes with a 3/4 inch NPT gas connection and a gas pressure regulator at no extra charge. It is backed by a one year limited warranty, is UL approved, and is rated at 135,000 BTUs per hour. The exterior is fully stainless steel, and that includes the single deck high shelf. The oven has a heavy-gauge welded frame and is 26 ¼ inches wide, 27 inches deep, and 14 5/6 inches high. It has an interior that is fully porcelain, which holds removable chrome plated oven rack sides, a removable bottom, and and one chrome plated oven rack. There is a ribbed oven door on this gas kitchen range, a push button igniter for the pilot, and a thermostat that is adjustable from 150ºF to 500ºF. Inside of this oven is a cast iron "H" burner that is rated at 40,000 BTUs per hour. Both of the open top burners in this gas range are made of cast-iron, can be lifted off, and are rated at 30,000 BTUs per hour. These burners feature a spill-proof pilot ignition system and each burner is covered by a durable cast-iron top grate. The burners are each controlled by an infinite adjustment brass valve. To the left of these two burners, this kitchen range features a 24" griddle that is ¾ inch thick polished steel. There are two heavy-duty, cast iron, "H" burners in this griddle, and each burner is rated at 20,000 BTUs per hour and has its own manual control valve or thermostat. The griddle on this commercial range utilizes a spatula wide grease trough and a large capacity grease can with an integral lid. This commercial gas range requires a 12" side and 6" back clearance from combustible materials. Optional features are available including an extra oven rack, a thicker griddle plate, or 6 inch swivel casters.


2 burners.
24" griddle 3/4" polished steel.
Oven interior dimensions 26 ¼ inches wide, 27 inches deep, and 14 5/6 inches high.
Spatula wide grease trough.
Dimensions: 57-1/2'' H x 36'' W x 33-1/2'' D.

You can save on shipping charges if you have your equipment sent to a business that has a forklift or loading dock!Please check box if you do not have a business address or loading dock or forklift.

Please specify Natural or Propane Gas in the options below.