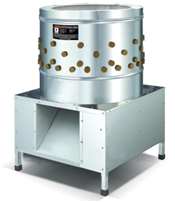 Video of Poultry Plucker
Poultry Plucker Manual
Poultry Plucker
(Item #629-212)
Heavy duty commercial machine is made of stainless steel and is used for plucking chicken, duck, goose, quail, pigeon and other poultry. The plucking is complete in 15-30 seconds, drum plucker will defeather 3-5 chickens or 2 turkeys at a time. It's production efficiency is equal to more than ten workers doing manual work. High speed, large capacity, great quality!

You can save on shipping charges if you have your equipment sent to a business that has a forklift or loading dock!
Please check box if you do not have a business address or loading dock or forklift.