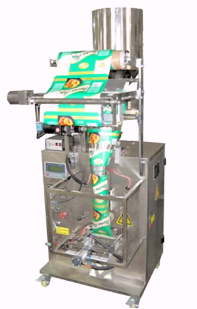 Video of Packaging Machine

Packaging Machine Automatic Granular
(Item #620-219)
This packing machine is used to pack any loose, non-cohesive, granular products of food, pharmaceuticals, and chemical industries, such as soup mix, coffee, instant drink mix, monosodium glutamate, oat meal, detergent powder etc.


Voltage: 110 V/60 Hz
Power: 1700 W
Production capacity: 30-80 bag/time
Measuring range: 50-400 ml
Bag size: L: 50-200 mm W: 50-160 mm
Dimensions: 42" L x 28" W x 74" H
Packing material: paper/PE, PET/AL, foil/PE, nylon/PE, tea leaf filtering paper, etc.

You can save on shipping charges if you have your equipment sent to a business that has a forklift or loading dock!
Please check box if you do not have a business address or loading dock or forklift.