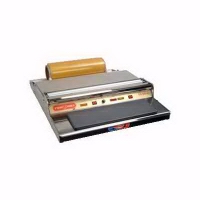 TS-500 Hand-Wrapping Machine by Tor Rey
(Item #633-014)
The TS-500 Hand Wrapping Machine allows hygienic product presentation and keeps products dust-free. Ideal for wrapping meat, cheese and other items, the TS-500 is practical, portable and easy to use.
Holds film rolls up to 18", 50 + 55 caliber
Features stainless steel construction
Unit weights 6.4 kg /14 lbs (without roll)
2 Amp Fuse
Voltage: 115/60hz
H/W/D: 4.3" x 20.5" x 25.6"