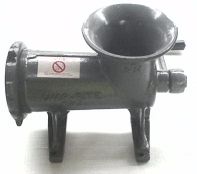 Chop Rite Manual Meat Grinder #12
(Item # 699-915)
This grinder is made of durable American cast iron and will certainly provide many years of service. The unit clamps to the edge of a table or board for quick setup, tear-down & cleanup of your sausage making work area.


American made.
Hopper opening 3-1/2" x 4-1/4"
Includes 3/16" plate (2-3/4" dia).